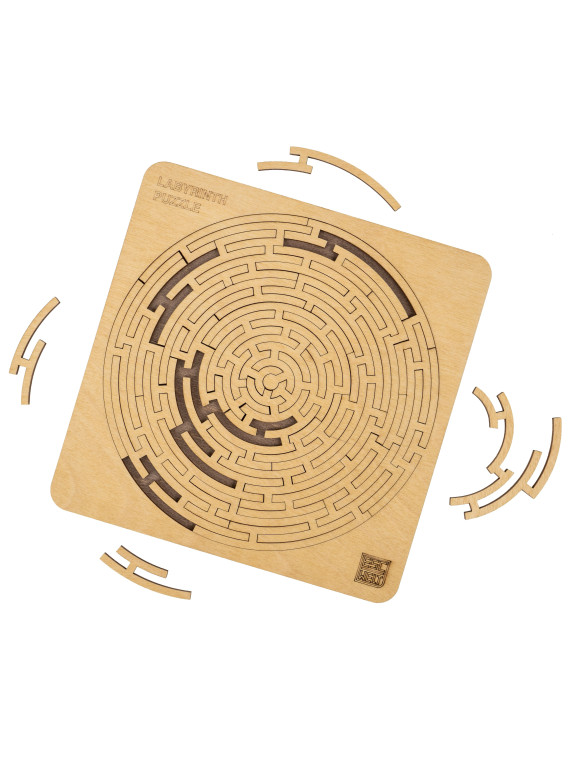  
Labyrinth Puzzle
Labyrinth Puzzle is a brand new generation of unique logic board games.

Have you ever found yourself in a labyrinth? Did you manage to get out without assistance? We challenge you to solve EscapeWelt's Labyrinth Puzzle. With 41 rounded details at your disposal, with the power of logic (not a bit of magic), solve the puzzle of the labyrinth and become the master of the maze!

The Wooden Puzzle Series by EscapeWelt is a game-changer. Who didn't love solving jigsaw puzzles in childhood, putting them together piece by piece? But times have changed, and the world has moved on from the days of ordinary jigsaw puzzles! Labyrinth Puzzle is a perfect logic challenge made entirely of natural wood. Every step is a task for your brain. Choose the right combination and find your way out of the labyrinth!

It may sound easy, but putting the 41 pieces puzzle together is more complicated than you thought. Only logic and strategic thinking will help you!

Made entirely from birch wood, Labyrinth Puzzle is an environmentally friendly product. We carefully select, sort, and treat the wood for production, assemble the product by hand at our factories in Germany and then package and send it to our customers with love.

More than 300,000 customers have joined the EscapeWelt family. They appreciate our work and dedication to creating the best experience possible and continue to show their love by coming back time and time again.
Technical specifications

Labyrinth Puzzle weight – 333g

Dimensions – 20 x 20 x 0.7 cm
The duration of the game

Labyrinth Puzzle is a quick-play game. If you prefer to solve puzzles yourself, Labyrinth Puzzle has a standard completion time of 120-180 minutes.

Play alone or with friends and family. You can share the experience of puzzle solving with one or two other players.