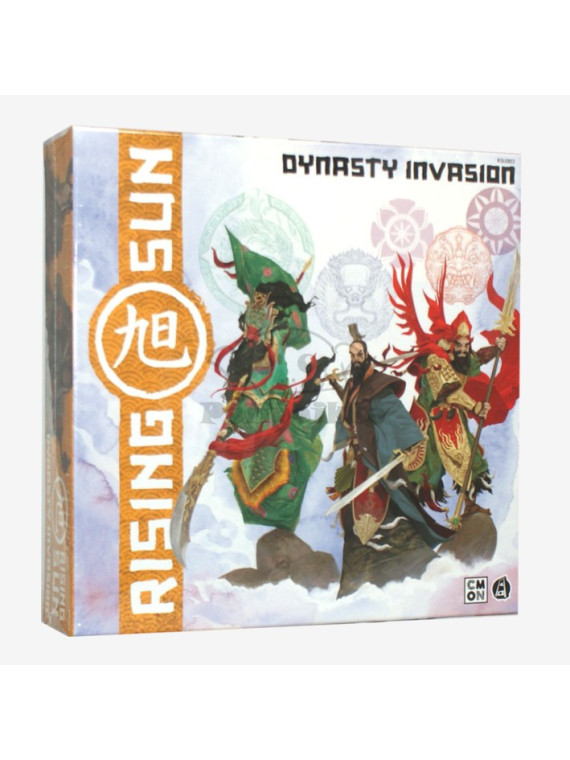  
Rising Sun: Dynasty Invasion
Sailing across the ocean from another land, the Dynasty Invasion brings two full new Clans, who will count on their own Seven Lucky Gods and introduce an extra Set of Season cards! This expansion brings a lot of extra variety to Rising Sun, featuring two Clans that forego the allegiance of Japanese Monsters, relying on their own Seven Lucky Gods instead.
The Dynasty Invasion expansion box contains:
27 Miniatures
1 Moon Clan Daimyo
3 Moon Clan Shinto
3 Moon Clan Bushi A
3 Moon Clan Bushi B
1 Sun Clan Daimyo
3 Sun Clan Shinto
3 Sun Clan Bushi A
3 Sun Clan Bushi B
7 Lucky Gods
4 Plastic Clan Markers
2 Clan Screens
1 Political/War Tile
8 Stronghold Tokens
15 Season Cards
7 Lucky God Monster Cards
20 Counter Bases
1-3 arkipäivää
30 päivän palautusoikeus
Postikulut 5,5€, yli 80€ tilaukset toimitetaan ilmaiseksi.
Pelaajien määrä

3 Pelaajaa, 4 Pelaajaa, 5 Pelaajaa, 6 tai enemmän

Genre

Area Control, Variable Player Powers, War/Fighting, Set Collection, Negotiation

Ikäsuositus

14+

Kieli

Englanti

Peliaika

60-120 minuuttia

Valmistusvuosi

2018