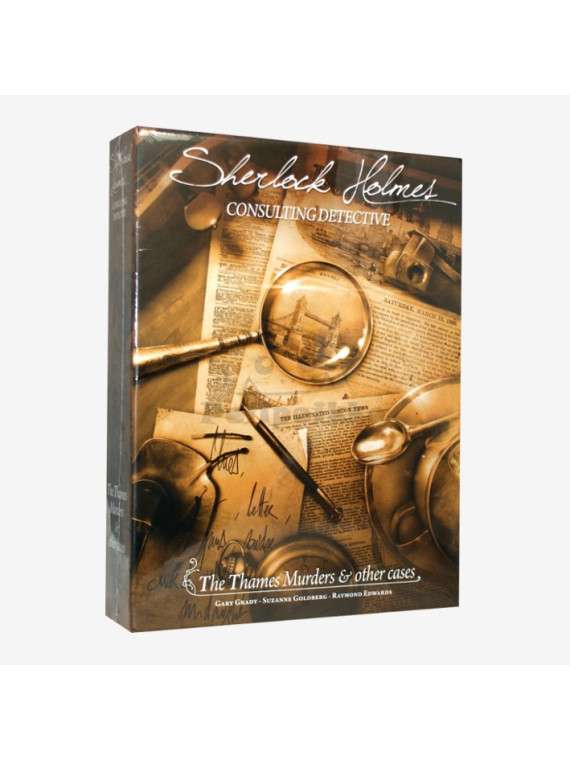  
Sherlock Holmes Consulting Detective: The Thames Murders & Other Cases
In Sherlock Holmes Consulting Detective, you are presented with a mystery to solve, and it is then up to you to trace the threads of evidence through the byways and mansions of nineteenth century London. You will interview suspects, search the newspapers for clues, and put together the facts to reach a solution.
Why were two lions murdered in Hyde Park? Who is responsible for the missing paintings from the National Gallery? Who murdered Oswald Mason and why? These are just a few of the cases that will challenge your ingenuity and deductive abilities.
This is not a board game: No dice, no luck, but a challenge to your mental ability. The game has been thoroughly researched for Holmesian and Victorian accuracy so as to capture a feeling of that bygone era.
Pelaajien määrä

1 Pelaaja, 2 Pelaajaa, 3 Pelaajaa, 4 Pelaajaa, 5 Pelaajaa, 6 tai enemmän

Genre

Thematic, Exploration, Puzzle/Mystery, Storytelling, Co-operative/Alliance

Ikäsuositus

10+

Kieli

Englanti

Peliaika

60-120 minuuttia

Valmistusvuosi

2017