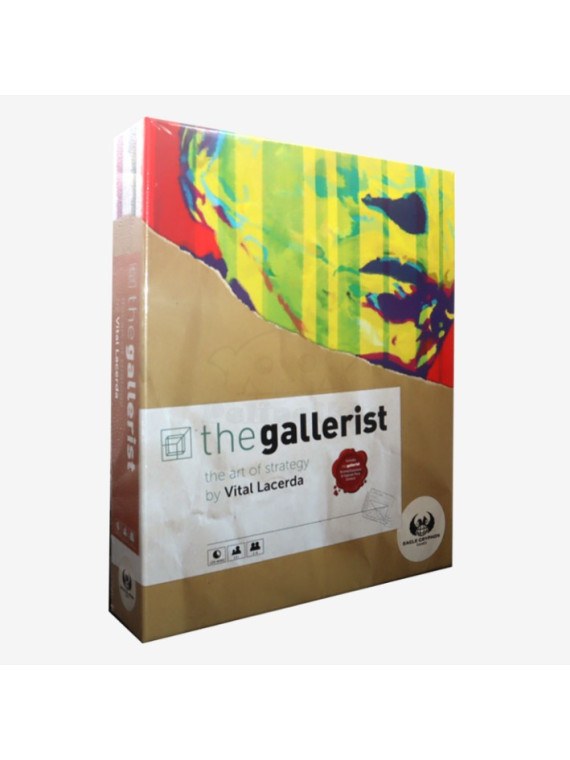  
Gallerist Complete Edition
The Gallerist: Complete Bundle Includes:
The Gallerist
The Gallerist Upgrade Pack
The Gallerist: Scoring Expansion


This age of art and capitalism has created a need for a new occupation - The Gallerist.

Combining the elements of an Art dealer, museum curator, and Artists' manager, you are about to take on that job! You will promote and nurture Artists; buy, display, and sell their Art; and build and exert your international reputation. As a result, you will achieve the respect needed to draw visitors to your Gallery from all over the world.

There's a lot of work to be done, but don't worry, you can hire assistants to help you achieve your goals. Build your fortune by running the most lucrative Gallery and secure your reputation as a world-class Gallerist!

Components
1 Game board
4 Art Gallery (Player boards)
4 Gallerist pawns
Starting Player marker and 4 Influence markers
32 Work of Art tiles
16 Artist tiles
16 Signature tokens
10 Artist bonus tiles
60 Tickets (20 White, 20 Pink, 20 Brown)
40 Visitors (12 White, 14 Pink, 14 Brown)
1 Visitors bag
40 Assistants (10 in each player color)
3 Easels
20 Reputation tiles
8 Fame markers and 8 Celebrity tiles
20 Promotion tokens
4 Art Dealer cards
4 Curator cards
20 Contract cards
72 coins
The Scoring expansion brings variability to the Intermediate Scoring that is otherwise the same every game. When this phase begins, players may score none, some, or all of the 3 pre-determined tiles instead of the usual Intermediate Scoring. To score, players first need to fill the tiles' goals.
Data sheet
Number of Players

1 Player, 2 Players, 3 Players, 4 Players

Recommended Age

13+

Language

English

Playing Time

120-180 Minutes

Production Year

2015