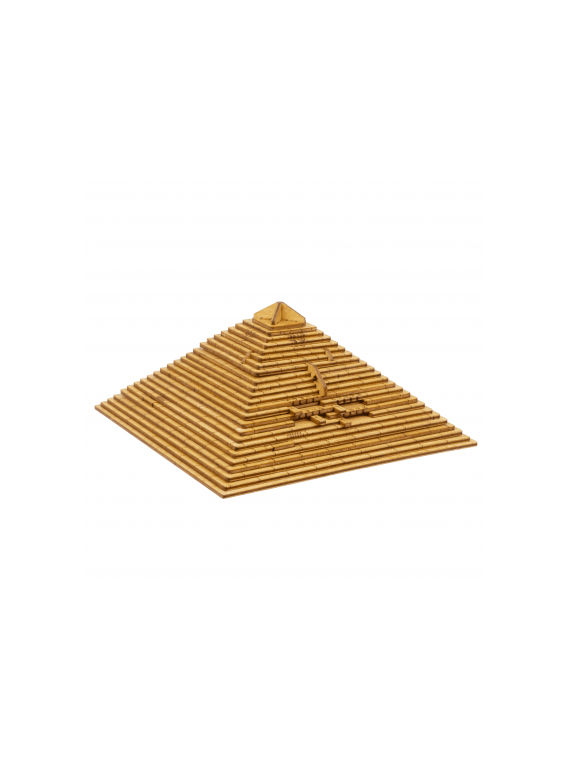  
Escape Welt - Quest Pyramid
Quest Pyramid is a new form of intellectual logic games designed to replicate the story and scenarios of an EscapeWelt escape room.

Replicate the tension and thrills of an escape room with your loved ones from the comfort of your own home.

Quest Pyramid is crafted by expert engineers who have hand-picked puzzles and multi-level tasks designed to challenge. Solve the tasks to unlock the mystery of Quest Pyramid.

Made entirely from birch wood, Quest Pyramid is an environmentally friendly product. We carefully select, sort and treat the wood for production and assemble the product by hand in our EU factories before packing and sending it to you with our love.

More than 10,000 customers have joined the EscapeWelt family. They appreciate our work and dedication to creating the best experience possible and continue to show their love by coming back time and time again.

We will continue to make you and your families happy!

The history of the toy
525 BC: Egypt - the last independent state of antiquity, was conquered by the Persians. Cambyses II, son of Cyrus, has declared himself the new pharaoh. Despite this, he has no power over the land he has conquered. The Egyptian priests guard the treasure chamber of knowledge, the true source of power. Hidden deep inside an ancient pyramid, the priests left magical traps and riddles to fend off foolhardy explorers.

Neither Cambyses II nor the most educated scientists of the Persian Empire were able to solve the riddles and attain the sacred wisdom of the Egyptians.

Now, after thousands of years, you have the opportunity to gain access to the treasure chamber of knowledge.

Do you have the guts to solve all the riddles of the ancient priests and gain the lost wisdom? What are you waiting for? Adventure lies ahead!

The kit includes:
1. Quest Pyramid

2. Flyer - instructions for solving problems

Do you need help solving the puzzle? Scan the QR code from the flyer and go to the Quest Pyramid online tips page.

Available in English and other languages.

Playing time
Quest Pyramid is a challenging game from the EscapeWelt intelligent toy series. Quest Pyramid has an average completion time of 60-90 minutes.

Play alone or with friends and family. Share the experience of puzzle solving with two to three other players for a great evening at home.
Data sheet
Language

English