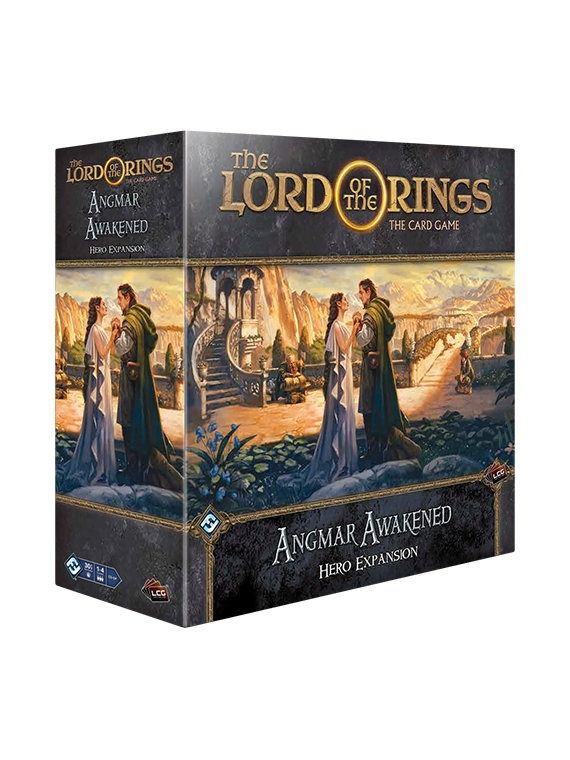  
The Lord of the Rings: The Card Game - Angmar Awakened Hero Expansion
After a senseless act of violence took the life of her best friend and of her stepfather, Riri Williams used her supergenius intellect to reverse-engineer Tony Stark's Iron Man design and create her very own power armor. Now she soars the skies as Ironheart, determined to rid the world of cruel fates like the one she once endured.

This high-tech hero boosts into battle in this expansion pack, which introduces Ironheart as a new playable hero along with her fifteen signature cards. With a pre-built Leadership deck ready to play from the get-go, you'll be able to face down villains with Ironheart's arsenal of armors from the moment you open the box. With the unique ability to gradually and permanently "level up" her armor for the rest of the scenario, Ironheart is a fantastic hero who can put in serious work for any team.he mysterious Dúnedain tirelessly protect the Free Peoples from lurking shadows and unseen dangers. In their duty to safeguard the realm, these Rangers of the North selflessly walk in harm's way...

The Angmar Awakened Hero Expansion includes 8 heroes for The Lord of the Rings: The Card Game, as well as all of the player cards and customization options featured in The Lost Realm and the original Angmar Awakened cycle. Use iconic characters like Aragorn and Arwen to quest through Middle-earth and thwart dangerous foes. Rise to the occasion by using valor cards and partake in new adventures pursuing thrilling side quests.

The Angmar Awakened Hero Expansion can be used to build or enhance player decks for any The Lord of the Rings: The Card Game scenario or campaign.

Not a standalone product. A copy of The Lord of the Rings: The Card Game Revised Core Set is required to play.