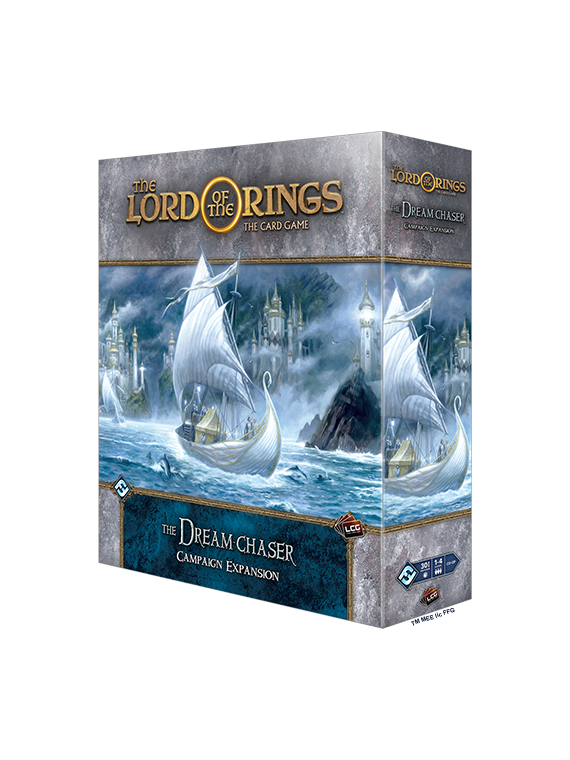  
The Lord of the Rings: The Card Game - Dream-chaser Campaign Expansion
For an age past, Elves have departed from the Grey Havens, sailing the western ocean of Middle-earth in beautiful white ships, often never to return. But a storm is brewing on the horizon, and something foul awaits on a forgotten isle of Númenor.

In the Dream-chaser Campaign Expansion for The Lord of the Rings: The Card Game, one to four players sail across the oceans of Middle-earth, battling Corsairs on the high seas and exploring uncharted ruins of Númenor, all while defending the Grey Havens from fierce raiders. Over the course of nine scenarios—which can be played standalone or as part of a larger campaign—the heroes must confront pirates, wraiths, sea monsters, and a persuasive villain who commands a fleet of powerful ships.

This expansion includes all of the scenarios originally featured in The Grey Havens and the Dream-chaser cycle of content, now repackaged into one box along with all-new campaign content.

Not a standalone expansion. A copy of The Lord of the Rings: The Card Game Revised Core Set is required to play.
Data sheet
Number of Players

1 Player, 2 Players, 3 Players, 4 Players

Recommended Age

14+

Language

English

Production Year

2023