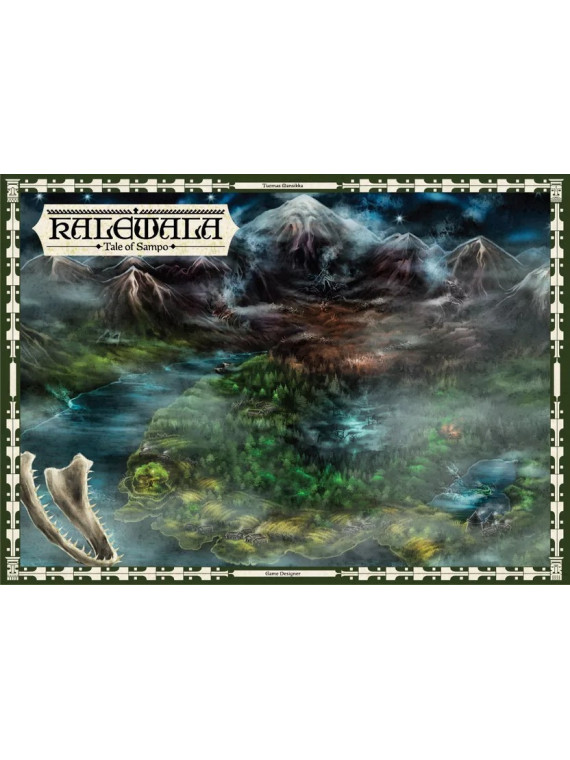  
Kalewala: Tale of Sampo (English Version)
Setting: The epic poetry of Kalevala was originally published in 1835, and has since inspired e.g. J.R.R. Tolkien. Kalevala and its 50 runes have been translated to over 60 languages, but it's mythological world is still unused as a board game theme. The game mostly focuses in the most well-known tale from Kalevala, the rune regarding the capturing of the legendary artifact called Sampo.
Description: Kalewala: Tale of Sampo puts players in two opposing teams controlling fascinating demi-gods in an immersive narrative set on the epoch of Kalevala. The tense interactions are amplified by the use of a vertical game board separating the two sides and by a clever hidden movement mechanism utilizing magnetic pieces on its central map. Use your limited card resources wisely, as they diminish rapidly, simultaneously revealing information to the opposing side. The earlier decisions during gameplay will bite or reward you on the inevitable event of game's combats!
Victory terms: The side of Vainola tries to reach their home, but only the Sampo-bearer (comparable to the significance of the Ring in LOTR) can win the game by reaching the pre-chosen destination. The other side, Pohjola, aims to deduce their current location from Vainola's movements in order to challenge the Sampo-bearer to combat. The game is played in a maximum of 12 rounds utilizing the trap components of Pohjola as a dynamic timer, with Pohjola winning if the Trap deck gets depleted.
Number of players: 1-6, can be played with up to 12 players with two game copies
Target audience: Players interested in flexible strategies, interaction and thematic tension, prior gaming background isn't mandatory
Level of difficulty: Medium (BGG scale), the rules can be learned in 5-10 minutes before starting and while playing but players need to be analytical or focused during gameplay.
Pelaajien määrä

1 Pelaaja, 2 Pelaajaa, 3 Pelaajaa, 4 Pelaajaa, 5 Pelaajaa, 6 tai enemmän

Ikäsuositus

12+

Kieli

Englanti

Peliaika

60 Minutes

Valmistusvuosi

2023